Do you have cast iron plumbing in your home? If so you could be in for a big surprise when it comes time to sell.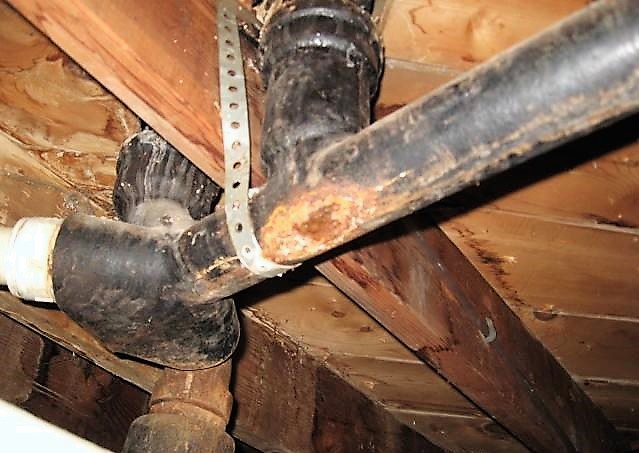 I have recently experienced the possibility of a deal falling apart due to the plumbing in a century home. Apparently insurance companies don't want to insure your home if you have cast iron plumbing. Clients of mine were looking to secure home insurance for their home which was closing in about six weeks. They were informed by a local Insurance Broker that she didn't have any companies who would insure the home due to the cast iron plumbing servicing the home. Fortunately, through my network I was able to find companies willing to insure the home for a short period of time (3 months) to allow my clients time to have the cast iron plumbing replaced.
Buyers: When you go to see a home, check the plumbing. If you decide to put in an offer on the home ask your Building Inspector if they see any cast iron plumbing. If so and you still wish to purchase the home you will have a number of options depending on market conditions. 1. Ask the Sellers to hire a Plumber to replace the cast iron plumbing and provide you with a receipt prior to close. 2. Factor in the cost of replacing the plumbing into the price your offer. In the mean time realize that your mortgage will require you to have the home insured. So check with your Insurance provider prior to firming up the deal that they will insure the home with the cast iron plumbing and/or will allow you a specific amount of time to replace the plumbing after you take possession of the home. Insurance should be a condition in the offer you make on any home if you plan on having a mortgage.
Sellers: Depending on what the market is like (Buyers market vs. Sellers market) replacing the cast iron plumbing may be something you want to get quotes on from a Plumber prior to listing your home. You may wish to avoid the problem completely by getting the work done yourself prior to your home going on the market.
Bottom line is know that Insurance Companies will not be insuring homes with cast iron plumbing in the future. Know what you are buying or selling as the case may be.